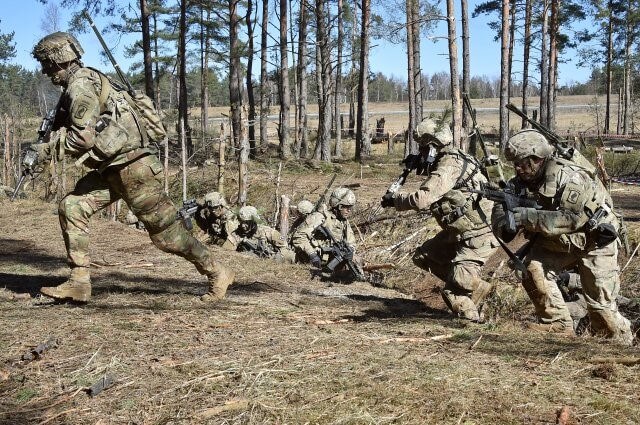 The Synthetic Training Environment (STE) Cross Functional Team (CFT), in concert with the National Security Technology Accelerator (NSTXL) and the Training and Readiness Accelerator (TReX), recently launched the STE Live effort. The STE CFT, in coordination with TReX, hosted a Collaborative Industry Day event on March 13-14th, 2019 at Rollins College in Winter Park, Florida. To view and download the STE Live Industry Day Attendee List, the Event Presentations, Agenda, Draft SON, or the original SON, click the hyperlinked text below.
To view and download the request for solutions (RFS) and supplemental documents, click the following hyperlinked text.
Important Dates
Date Posted: 04/02/2019
Question Deadline: 03-10-2019 16:00:00
Industry Day: 3-13-2019 to 3-14-2019
---
STE Live Industry Day Attendee List 4.4.19a
03_Live Training Environment Stage Setter
04_Tactical Scenario Use Case FINAL
STE_Live Industry Day_Agenda_March 13-14_2019_2
Updated February 2019 Draft SON
Original January 2019 Draft SON
STE Welcome Message and Parking Instructions_March 2019
While TReX membership is not required to attend the Industry Day session, membership is required to participate in the Collaboration sessions. The draft Statement of Need (SoN) and supporting documentation can be accessed in the "Key Documents" tab. Please continue to monitor the NSTXL website for updates.
Please contribute your comments and questions early regarding this Statement of Need or supporting documentation. Your input will help to improve the quality and clarity of the Statement of Need as well as approaches to solving user needs.
Industry Day and individual discussions on 14 March called Industry-Government Ideation Sessions are considered part of the market research acquisition phase. As such, all discussions between Industry and Government regarding your intellectual property will not be shared with other contractors. During this phase, Government will not provide feedback or assessments regarding contractors' solutions.
Companies interested in responding to the Draft Statement of Need and related materials should submit questions and comments in the "Submit A Question" tab no later than 16:00 EDT, March 10, 2019, to be considered to be addressed by Industry Day on March 13, 2019. Questions and comments collected during and after Industry Day and Ideation Sessions will be posted, along with available responses, in the weeks following the event.