Intel, Qorvo, and DoD Officially Celebrate Delivery of Microelectronics Advancements to the Defense Industrial Base
April 6, 2023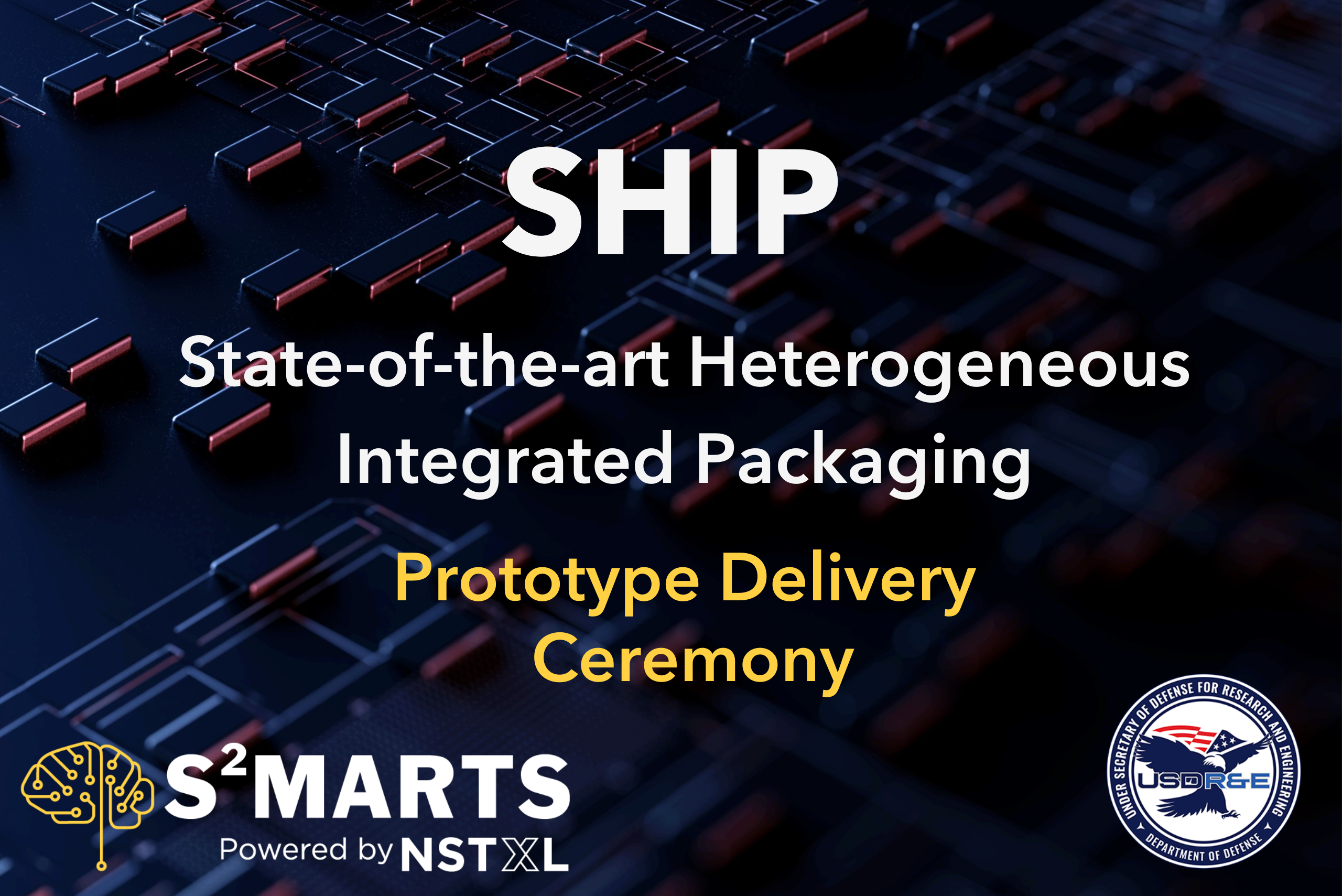 The U.S. Department of Defense (DoD) has celebrated a milestone achievement for the State-of-the-Art Heterogeneous Integrated Packaging (SHIP) Program under the Office of the Under Secretary of Defense for Research and Engineering (OUSD(R&E)) with the delivery of the first SHIP prototype devices from Intel and Qorvo to BAE Systems, Inc.
The SHIP Program was established to develop pathways for sustained DoD access to state-of-the-art (SOTA) microelectronics packaging capabilities by leveraging commercial industry production flow to meet the DoD's requirement for highly customized parts. Utilizing the Strategic and Spectrum Missions Advanced Resilient Trusted Systems (S²MARTS) Other Transaction Agreement (OTA), the SHIP Program has partnered with Intel and Qorvo to develop prototype devices that will be transitioned to DoD systems through the Defense Industrial Base (DIB) to demonstrate enhanced capabilities and size, weight, and power (SWaP) savings beneficial to the warfighter. The first two of these prototypes – Intel's Multi-Chip Package (MCP-1) for SHIP Digital and Qorvo's Multi-Chip Module (MCM-1) for SHIP RF – were delivered to the lead DIB demonstrator, BAE Systems, Inc., during a ceremonial gathering held by Ms. Heidi Shyu, Under Secretary of Defense for Research and Engineering (USD(R&E)) and the S2MARTS OTA Manager, National Security Technology Accelerator (NSTXL), at BAE Systems' facility in Falls Church, Virginia, on Thursday, April 6, 2023.
"Today's ceremony provided a key milestone in the SHIP program – utilizing the speed and flexibility of the OTA process to accelerate getting state-of-the-art microelectronics from Intel and Qorvo, both non-traditional defense contractors, to BAE, a leading Defense Industrial Base contractor," stated S2MARTS Director Doug Crowe, "The MCP-1 and MCM-1 will provide critical capabilities for BAE and DoD to modernize our military systems."
During the event, key stakeholders in the SHIP Program spoke about the program's significance in advancing the mission to reestablish the United States as a dominant player in the microelectronics ecosystem and emphasized the success of Government-Industry partnerships to rapidly modernize critical military systems to enhance national security.
Speakers included:
Heidi Shyu, Under Secretary of Defense for Research & Engineering
Pat Gelsinger, CEO of Intel
Babak Sabi, Senior Vice President/General Manager Assembly/Test Development, Intel
Philip Chesley, Senior Vice President & President of High-Performance Analog Products, Qorvo
Tom Arseneault, President & CEO, BAE Systems, Inc
Dev Shenoy, Principal Director for Microelectronics, OUSD(R&E)
Darren Crum, OUSD(R&E) Advanced Packaging Lead & SHIP Digital Technical Manager
By gathering key entities involved in the SHIP program, each organization was able to share highlights of their experience and formally handoff their first prototype device to BAE Systems which will be the first defense company to incorporate the devices into a program of record. The ceremonial handoffs signified the importance of each organization's contribution to the program and how these efforts came together to successfully deliver advanced microelectronics packaging capabilities for the DoD.
"Intel's first multi-chip package under the SHIP program leverages Intel's core strength of product and process technology leadership as well as our robust industry partnerships, which are driving the development of new chiplet ecosystems," said Intel CEO Pat Gelsinger. "Through a close partnership with BAE and the U.S. Government, we were able to deliver the prototype six quarters ahead of schedule. Intel is proud to have these critical technology capabilities here in the U.S., which are necessary to quickly develop and build products essential to our defense and national security."
"The Qorvo team is proud to achieve this important SHIP program milestone in collaboration with BAE Systems and the U.S. Government by delivering the first prototype RF multi-chip modules today," said Philip Chesley, Qorvo SVP and President of High Performance Analog Products. "These state-of-the-art RF packages demonstrate significant opportunities for size, weight, and cost savings while enhancing performance as advanced DoD systems are developed or modernized."
The success of the SHIP program is rooted in a true partnership between the DoD, Intel, Qorvo, and BAE Systems, Inc. SHIP is not only facilitating the modernization of current microelectronic systems but will also make the technology available to the entire DoD and Defense Industrial Base for rapid transition of SHIP devices into a wide range of systems. The SHIP example can be used as a case study for future technology innovation by showcasing the efficiency and effectiveness of OTAs, creating cost sharing models to buy down risk associated with adoption of new technologies, and developing enduring partnerships between Government and Industry.
"Programs like SHIP help drive a level of speed and collaboration between government and industry that is critical to sustaining microelectronics development for our national security in support of the nation's warfighters," said Tom Arseneault, President and CEO of BAE Systems, Inc. "We look forward to continuing our engagement across both defense and commercial industries to further advance the microelectronics ecosystem."
Additional prototype devices are in development under the SHIP Program. Under SHIP Digital, both MCP-1 and MCP-2 contain SOTA chiplets with advanced functionality, low power, smaller size, and cutting-edge performance along with Intel® Agilex™ advanced Field Programmable Gate Array (FPGA) technology. As the next phase of the SHIP Digital effort, the DoD has initiated the Strategic Transition of Microelectronics to Accelerate Modernization by Prototyping and Innovating in the Packaging Ecosystem (STEAM PIPE) project to solidify pathways to transition of both devices to DoD systems.