Get to Know NSTXL: Featuring Tranisha Harris
September 16, 2021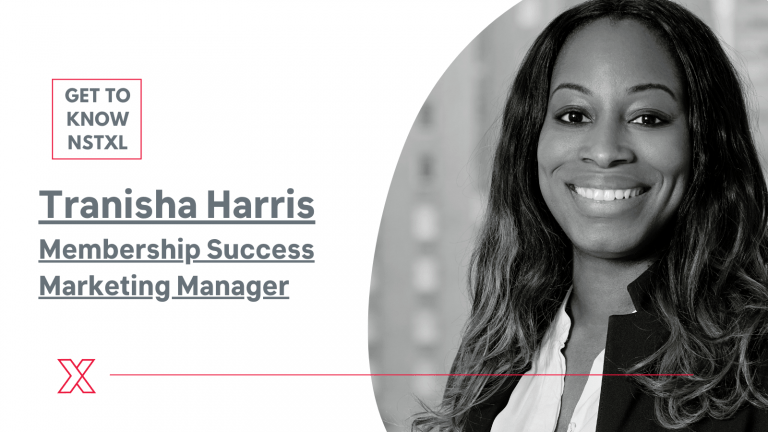 This September, we wanted to showcase our Membership Success Marketing Manager, Tranisha Harris. Tranisha brings with her powerful ideas and plans to improve both NSTXL and how the industry looks at membership overall. As the Membership Marketing Manager, she takes on a multitude of tasks to improve the membership experience.
Tell us more about your background and what led you to NSTXL.
I came to NSTXL from an Investor Relations role at Angelo, Gordon & Co., in New York City. From my past roles and experiences, I realized that I love connecting with diverse groups of people and building engaging relationships. When I was at Mercer University, I studied abroad a lot, which is another experience that solidified my love for interacting with different people and cultures.
What led me to NSTXL was mainly the challenge of getting to work for a company that I really felt would allow me to make more of a difference. I was also interested in gaining a new perspective by working with the government. It has truly been a 180, figuring out how to use the tools I gained from my past jobs to make a difference here.
About Your Role.
My role here at NSTXL is the Membership Success Marketing Manager. My main goal within this position is to maximize our members' experience. I want to give them all the tools they need to succeed and elevate the way in which they collaborate. One of my major short-term goals for the position is to streamline processes and make for a better user experience. I want to build a structured foundation for our members, empowering them with everything they need right at their fingers.
What is your favorite part about working at NSTXL?
My favorite part of working at NSTXL is my coworkers and the culture overall. There is a very hands-on approach, and everyone helps everyone. This fluidity and willingness to help are a big part of why I enjoy working here.
What is the most exciting project or success you have seen in your role?
The most exciting project that I am working on right now is utilizing our member feedback to create actionable items to improve their experience with NSTXL. We are working hard to figure out a feasible timeline for maximizing the user experience. This will create a more sustainable future, which is really exciting to be a part of.
What is something you wish more people knew in the industry?
Something that I wished more people in the industry knew is what an OTA actually is and how they can be leveraged to help both the government and the commercial sector. This is something that we feel is very important and can be overlooked by many. So, we want to ensure everyone understands the importance of OTAs and what they do.
Why are you passionate about your work at NSTXL?
I'm most passionate about my work at NSTXL because I am able to empower our members by aiding them in participating in a program that showcases their talents and skills. This, in turn, helps their companies to align with the needs of the Government and better fulfill those needs. I am really passionate about empowering and educating members. Especially in the case of non traditionals, because regardless of their experience with the government, we are able to give them the tools they need to succeed and then watch them flourish.
What sets NSTXL apart?
Once you become a member of NSTXL, you have access to all our OTAs. This feature gives our members access to a huge variety of opportunities and potential partners, which is a massive asset for them.