Third Annual SpEC General Member Meeting
October 31, 2023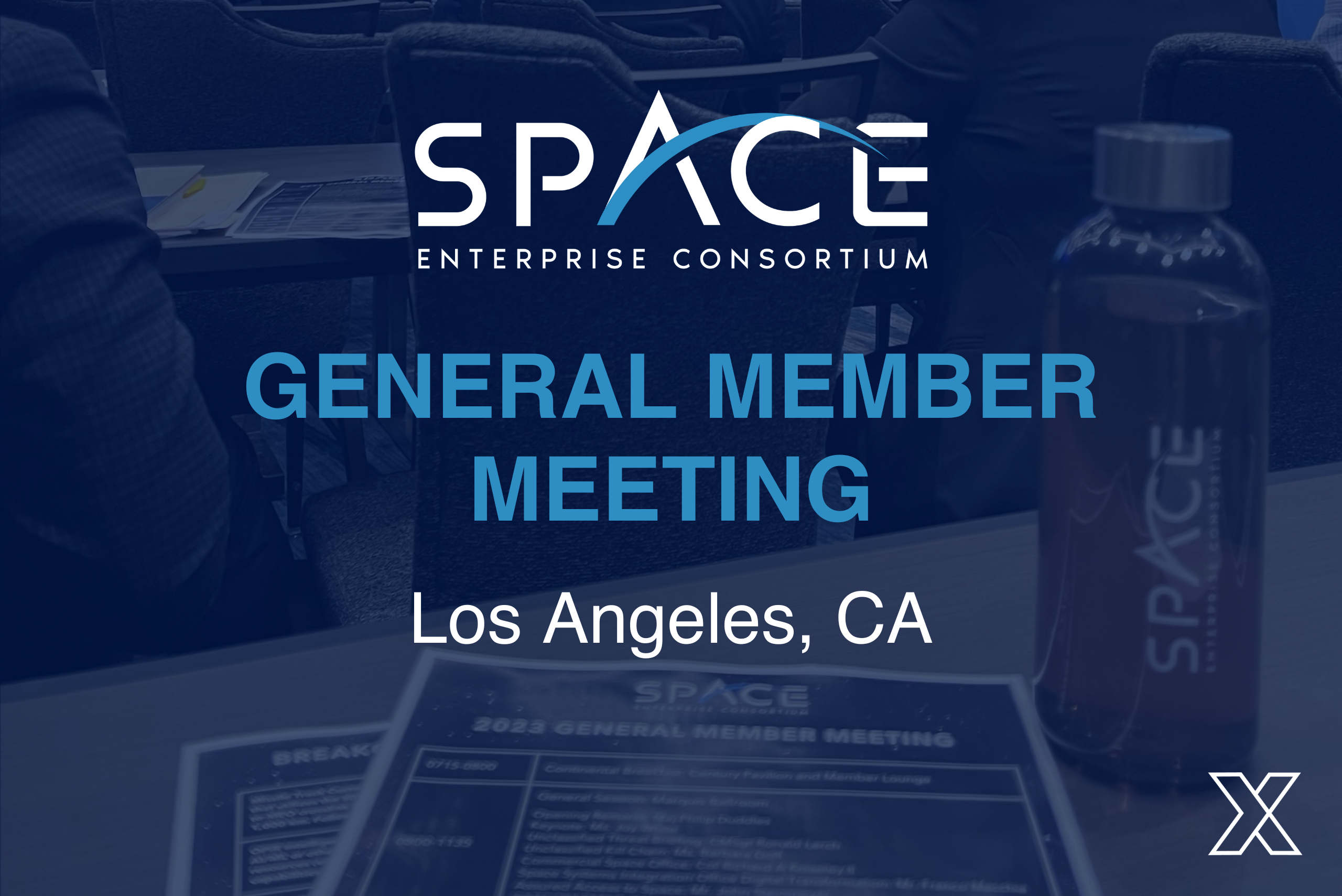 Designed to provide actionable takeaways for industry, academia, and government, the 2023 SpEC General Member Meeting took place in Los Angeles on October 16th and 17th, where members attended two days of learning from and networking with SSC leadership, SpEC project owners, and program managers, as well as over 400 other SpEC members. From relevant keynote sessions to expert-driven roundtables, lessons-learned panel discussions, focused program briefings, and one-on-one technical meetings—this year's GMM was a perfect fit for business development leaders, technical program managers, principal engineers and more. Here is a recap of the event:
Day 1
The event kicked off on Monday afternoon with a networking session and dinner, with the opportunity to engage in a "speed-dating" session, allowing individuals to introduce themselves and discover potential teaming opportunities. Enabling members to connect later in the event based on what they heard in "speed-dating". This year, members chose project-specific ribbons to pin on their badges that featured the names of each opportunity/breakout session to encourage teaming across the industry/members, allowing them to easily see who was interested in the same topic to promote teaming and networking. Following this event, members enjoyed dinner and continued networking opportunities. Participating members met in teaming rooms to share their capabilities supporting EOS, ERM, and the ESS Mission Planning opportunities.
Day 2
Day 2 of the GMM kicked off with a breakfast social, where members could meet and connect over a cup of coffee. Participating members met in teaming rooms to share their capabilities in support of Cloud-based Cross Domain Solution, Integrated Tactical Data Bus, and the API Gateway Translation Service opportunities. Following this, Maj Phillip Duddles (SSC) kicked off the general meeting and introduced the morning's lineup of keynote speakers, including:
Ms. Joy M. White: Executive Director, SSC
CMSgt Ronald Lerch: Chief Master Sergeant, SSC
Ms. Barbara Golf: Strategic Advisor for Space Domain Awareness, USSF
Col Richard A Kniseley II: Senior Material Leader, Commercial Space Office, USSF
Mr. Franco Macchia
Mr. John Steinmeyer, Executive Director, Assure Access to Space, USSF
Ms. Nicole Visosky: Chief, Enterprise Management & Control (EM&C) Branch, USAF
These speakers spoke on topics such as threat briefings, kill chain, updates on space systems integration and assured access to space, and SATCOM EM&C. In the afternoon, members were invited to a PEO panel discussion, where topics such as SSIO, space domain awareness, Milcom & PNT, BMC3, and AFRL were covered. Moderated by Col Joseph Roth, the PEO panel included the following guest speakers:
Claire E. Leon: Director, Space Systems Integration Office
Col Bryon McClain: Program Executive Office, SSC
John Steinmeyer: Executive Director, Assure Access to Space, USSF
Cordell A. DeLaPena Jr.: Program Executive Office for Military Communications & Precision, SSC
Shannon Pallone: Deputy PEO, Battle Management, Command, Control, and Communication, SSC
Andy Williams: Deputy TEO for Space S&T, AFRL
Following the PEO panel, members participated in breakout sessions focused on current SpEC opportunities, allowing members the ability to hear straight from the project leaders at SSC and have all of their questions answered. Project-specific breakout rooms included:
Missile Track Custody MEO Crosslink Demo
Enterprise Resource Manager (ERM)
OPIR Intelligent Mission Management
Application Programming Interface Gateway
Tactical Data Bus
Cross Domain Solution
EOS/MDPAF
ESS Mission Planning
Closing Remarks
The event closed with a celebratory reception for all SpEC members. SpEC members are leading the development of cutting-edge, new space technologies and defining capabilities supporting U.S. space dominance. Our goal was to honor our members who play a critical role in this event as they continue to push the boundaries past the possible, ands to allow each of them to learn and network with their peers across the industry. The abundance of participation at this year's GMM is a powerful indicator of the role that collaboration plays in the DoD's efforts to maintain and optimize security in the United States. Learn more about  SpEC membership here.

About SpEC
The Space Enterprise Consortium (SpEC) was created in 2017 through the Air Force Space and Missile Systems Center. SpEC was created to bridge the cultural gap between military buyers and commercial space startups and small businesses through OTAs. SpEC's innovative contracting process allows them to solicit bids from a mix of member companies including companies that have not previously done work with the DoD.
About NSTXL
NSTXL is focused on building a network of innovators and creators across the most sought-after emerging technology fields. As an open-source platform, our approach was designed to encourage network growth and collaboration without stifling change. We support our network by providing commercial-term contracting, open-source technology discovery, modern-day marketing outreach, a strongly interconnected network for easy teaming and cybersecurity compliance support.