The Rise in OTA Popularity
May 19, 2022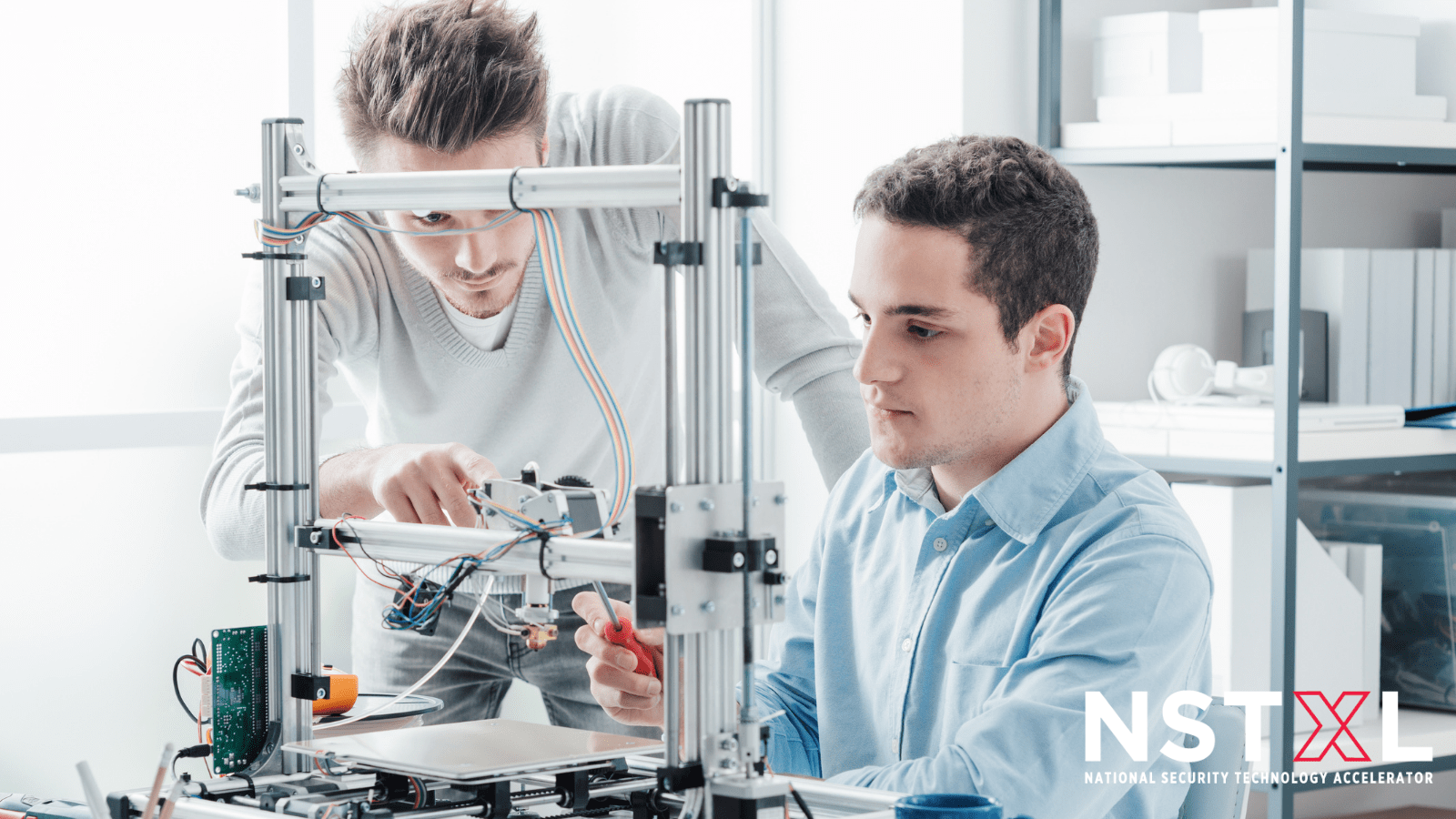 Today's defense landscape is incredibly competitive. With discoveries occurring at an exponential rate, the government is always looking for ways to push the boundaries of technology and innovation. In order to do this in the most effective way, government program offices have been relying more and more on an agile contracting vehicle known as Other Transaction Agreements (OTs). 
Industry wants to and can use their technology to strengthen U.S. national security. The government wants to and can expand its reach to include private sector organizations that would previously have found government contracting too burdensome and difficult. These two factors combined can lead to the government acquiring the newest emerging technologies and putting them in the Warfighters' hands in record time. 
The question comes down to, what is the fastest, most efficient avenue to get a prototype on contract? Is it really an OTA? To answer that, we need to understand our options. 
Defining FAR
FAR stands for Federal Acquisition Regulations and is the default federal acquisition service pathway used by U.S. government program offices. Because of their commonality in the space, many government program offices are already familiar with the FAR and comfortable in their processes. The FAR is so foundational that it is practically equivalent to the ABC's of government contracting. 
However, due to regulations and red-tape, FAR contracts take much longer to produce a prototype. They are also stricter in terms and requirements. While working with an already accepted system can be easier when trying to get internal buy-in, there are other factors that weigh in to make the decision between FAR vs OTA. In an era of accelerated competition, the ability to quickly field new tech from more diverse sources far outweighs the risk-reducing, rigid adherence to traditional pathways. 
However, change management at any organization is no small task. There is an inherent comfort level with tried-and-true processes, especially the FAR. But, there comes a point when efficiency is worth more than convenience. As we are increasingly met with new technical challenges across the ocean, we can't ignore the facts. China's focus on developing asymmetric capabilities for area access denial poses a significant risk to the security of countries and territories abroad. Coupled with the Chinese Communist Party's record of human rights abuses, the U.S. has no choice but to accelerate its ability to field new defense capabilities. This allows us to stay credible in providing advocacy for free and open societies across the globe. The DoD needs the speed and agility that OTAs offer. 
Defining OTA Contracts
OTA stands for Other Transaction Authority and there are currently more than 10 federal agencies authorized to use them. The contracts that flow from these authorities, called Other Transaction Agreements (OTs), speed up time-to-development of new technology while also increasing the agility of that process. On average, NSTXL's submission to award timeline is just over 100 days compared to 12-24 months with traditional defense acquisition options. 
OTAs are managed by organizations like NSTXL who have added flexibility. This in turn increases the versatility of submissions, decreases the government's risk, and speeds up acquisition timelines even further. These consortium managers can leverage commercial best practices, organize hands-on collaboration events between government and industry, and even help refine solicitations so that industry can better propose a solution that fits governments' needs. 
FAR vs OTA
While it may seem like the two vehicles operate very differently, there are some important similarities. At their core, both are working toward the advancement of the agency that is utilizing them and giving the Warfighter their best chance at success.  
Let's highlight the distinctions with a side-by-side comparison: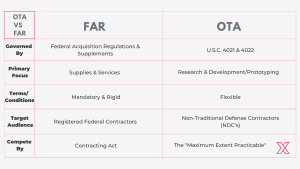 What Are the Benefits of an OTA?
On top of increasing speed to award, flexibility is a key benefit of OTs. OTs can be written to focus on desired ends instead of strict process concerns. This allows innovators to more openly explore stronger solutions that otherwise wouldn't have been considered. It also allows the government to source truly novel applications of emerging technology. In the end, this saves time, money, and resources by allowing iteration on existing platforms where it's beneficial and development of new ones where incumbent systems have reached obsolescence. This is what contributes to OTAs being one of the quickest contracting methods. 
Despite their fluidity, there are still some stipulations that regulate the usage of OTs. The main one is that there must be a certain level of non-traditional involvement (unless the traditional organization covers 1/3 of project cost). By eliminating heavy requirements and prioritizing non-traditional submitters, OTAs naturally encourage more diverse industry involvement. This opens the door for emerging technologies and entrepreneurs to easily enter a complex ecosystem. 
Another important aspect of OTAs is the three categories that contracts can be divided into including 
Research (R&D)

 

Prototype

 

Production

 
Each OTA can operate within certain categories and technology areas that are fulfilled through a consortium. Consortiums are communities made up of commercial companies who want to work with the government. That's where NSTXL comes in. Learn more about our philosophy and platform below.   
So, What is the Best Defense Contracting Vehicle for a Quick Award?
Great innovation often comes from small beginnings. OTAs were created to expand the pool of innovators and allow non-traditional organizations to enter the arena. Thus bringing the Government ideas they may not have been presented with before. We focus heavily on ensuring that we have a wide variety of non-traditional members. We also ensure that defense contractors are well-prepared for submitting proposals when the time arises. In 2021 alone, we had over 800 members and 64% of awards through NSTXL went to small non-traditionals. 
Designed as an alternative to traditional contracting vehicles, OTs help fast-track research initiatives and prototype innovation. They lead the way to a more agile and well-rounded defense contracting process. Without the same barriers holding back award timelines, eating up funds, or limiting transparency, we can come together and advance national security in support of the U.S. and its allies. 
Join NSTXL on its mission to continue this innovative growth. We are changing the way government innovates and you can be a part of it too. Learn more about our offerings, membership, and how you can get involved here.
Learn more about S2MARTS and explore open opportunities at https://s2marts.org/. To be notified when new S2MARTS opportunities are posted, subscribe to NSTXL and we'll send them straight to your inbox, no membership required. 
About NSTXL
NSTXL is focused on building a network of innovators and creators across the most sought-after emerging technology fields. Within the platform, NSTXL supports three OTA's including the Strategic & Spectrum Missions Advanced Resilient Trusted Systems (S2MARTS), the Training and Readiness Accelerator (TReX), and the newly awarded Space Enterprise Consortium (SpEC).  Join the mission today.