SpEC Impact Within Satellite Community Evident at SmallSat 2022
August 22, 2022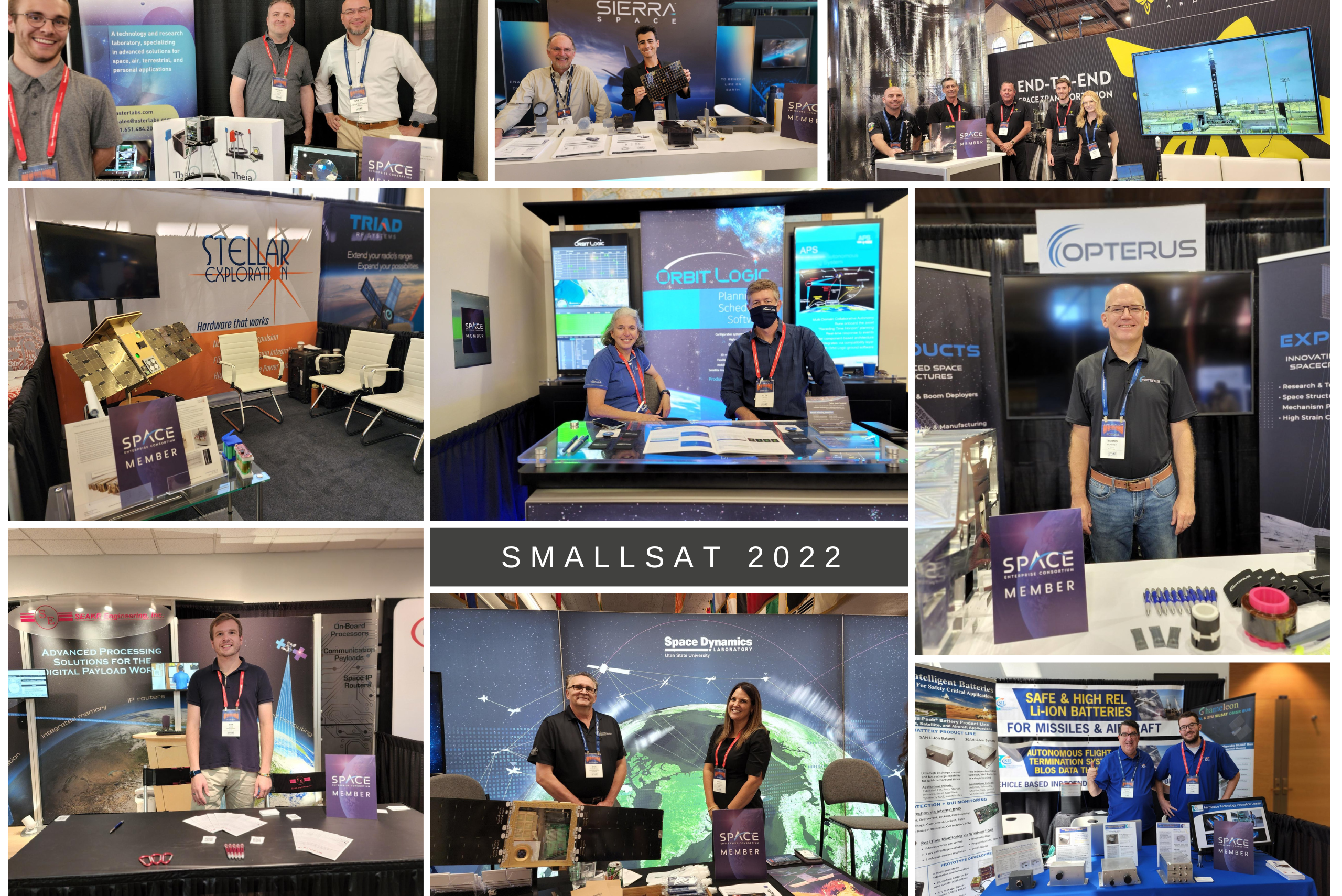 Space Enterprise Consortium's (SpEC) presence within the small satellite community was apparent during the 2022 SmallSat conference in Logan, Utah. With prominent SpEC member signs in view, about 30% of this year's SmallSat exhibitors are members of SpEC, a rapid contracting method that allows the government to quickly address emerging technology needs.
Providing the keynote speech for the event was SpEC member Rocket Lab's founder and CEO Peter Beck. Beck outlined the milestones of gaining traction from a start-up in 2006, being awarded U-Stage Resiliency opportunity in 2021 through SpEC, to Rocket Lab's Electron launch vehicle being the second most frequently launched U.S. rocket today. The Electron has launched 149 satellites to space to date. Regarding space advancement and innovation Peter Beck stated, "No one on this planet wants to fail less than us."
Another SpEC member, Kayhan Space, held a side technical session on what they are doing to make spaceflight safer. Hosted by Derek Woods, Kayhan Space Astrodynamicist, he described how there are over 1.25 billion pairs of orbits to monitor in space and 1022 satellites were launched into space just within the first six months of 2022. At this tremendous launch rate, the government cannot feasibly keep up with monitoring and tracking.
"Government agrees that they are slow at developing new technology and need small businesses to come in and help with these needed advancements." stated Woods. The government is leaning into small businesses and non-traditional defense contractors to fulfill this space safety gap. With over 70% of SpEC members being non-traditional defense contractors, SpEC is assisting the industrial base in answering the governments call for critical space technology.
Woods explained how Kayhan Space has developed Kayhan Gemini, an On Demand Catalog Screening as well as Launch Collision Avoidance system – Kayhan Gamut – which has the ability to screen launch trajectories in parallel across launch windows allowing for faster turnaround time for launch providers. These technologies make spaceflight safer for the entire small satellite community and create safer pathways for future space flights. "As an industry, we need to come together to make space more sustainable," emphasized Araz Feyzi, Kayhan Space Co-Founder and CTO.
The impact SpEC has on the increasingly contested space domain was discernible during SmallSat's keynote speech, technical sessions, and across each of their booths. During the conference not only were members able to easily identify other SpEC members for potential opportunity teaming, but also able to identify the capabilities of cohorts.
"Networking during these industry tradeshows is something our SpEC team offers our members as a segue to make future teaming on potential opportunities quicker and easier," stated SpEC's VP of Membership Shelley Tweedy, "it is a way to quickly connect and combine capabilities within the community who are already members of the consortium ."
About SpEC
The Space Enterprise Consortium was created in 2017 through the Air Force Space Systems Command to bridge the gap between military buyers and commercial space startups and small businesses through OTAs. Companies interested in joining the Space Enterprise Consortium can find more information about the organization, including how to join at https://www.space-enterprise.org/.