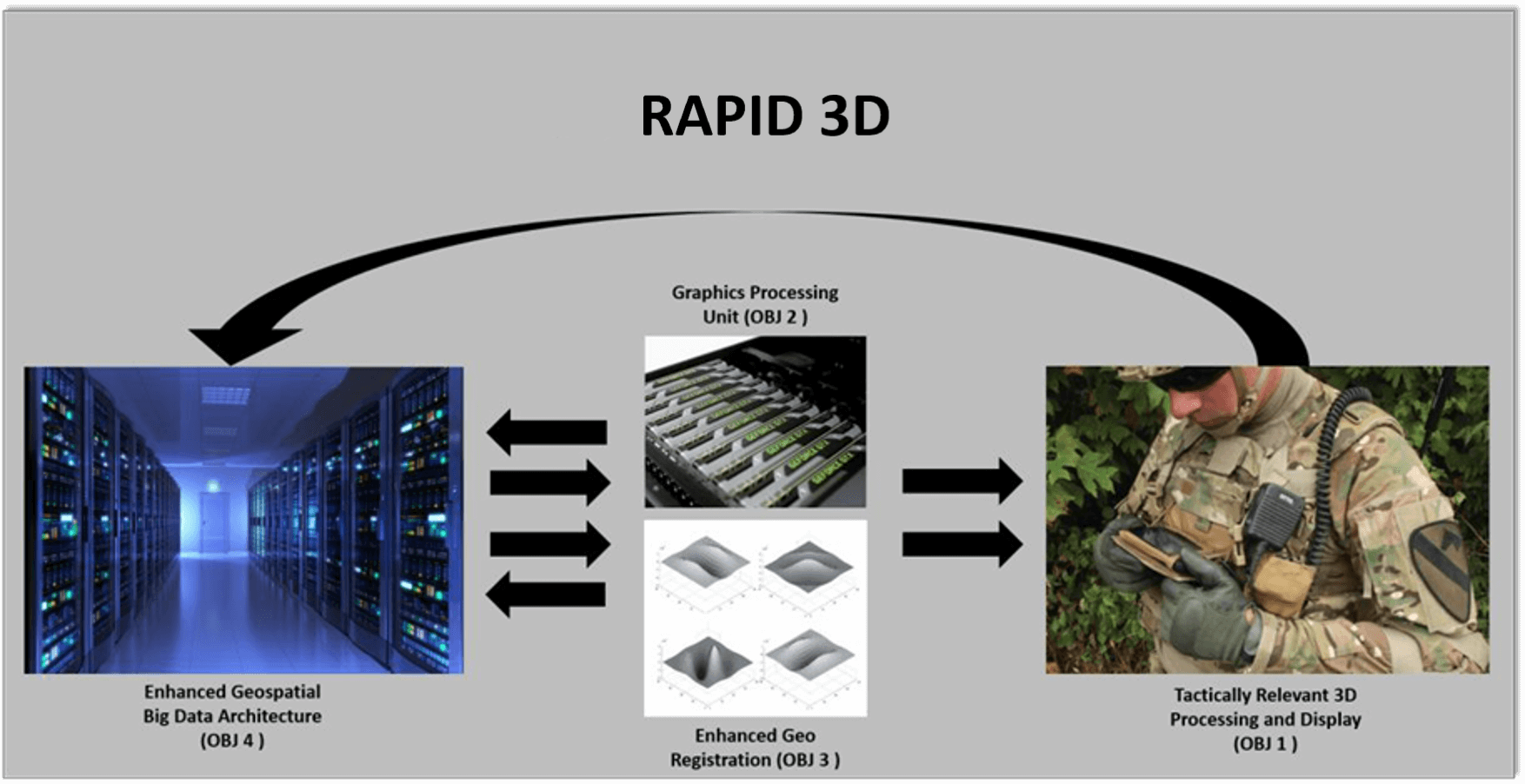 ---
USSOCOM desires advanced technology (Technical Readiness Level (TRL) 5-6) for further development and application to Special Operations Forces (SOF) unique specifications. Technologies will be combined with other emerging technologies to prototype proofs of concept and assessed as integrated, low TRL solutions over the next 6-18 months. Emerging capabilities may be used for experimentation and extended "real world" test and evaluation to achieve TRL 8.
This project is directly relevant to enhancing the mission effectiveness of SOF personnel and will enhance several areas that are currently key technology gaps. These include 3D data processing automation, source agnostic 3D content generation, rapid 3D data generation, and standards-based interoperability for use by SOF operators in denied, degraded, intermittent and low bandwidth environments at the tactical edge.
Delivered solutions will be part of the Rapid 3D prototype project composed of three objectives: Graphics Processing Unit (GPU), Geo-registration, and Scale. Vendors may bid on one or more solutions. GPU, Geo-registration, and Scale are each considered a solution. Deliverables (hardware, software, reports, etc.) will be determined during final Statement of Work (SOW) collaborations with selected offerors, prior to award.
Dates:
Questions Deadline – May 21, 2019 at 13;00 EST
Proposal Deadline – June 14, 2019 at 13:00 EST
May 31, 2019 Updates:
RFS – RAPID 3D GEOINT Amended 31 May 2019 FINAL
RFS-RAPID-3D Att2 Q and A 31 May 2019 FINAL
May 14, 2019 Updates
RFS – RAPID 3D GEOINT – Att1 Security Process for Vetting Vendors
RFS – RAPID 3D GEOINT – Att2 Questions Form
RFS – RAPID 3D GEOINT 14 May 19
Active TReX membership will be required to submit a solution for this soon to be released RFS. To start or update your NSTXL membership application and registration, please visit the NSTXL membership portal: NSTXL Membership.
Any questions regarding this soon to be released opportunity should be directed to [email protected].