NSTXL Mentors STEM Students as They Prepare For State-Wide Pitch Competition
April 27, 2021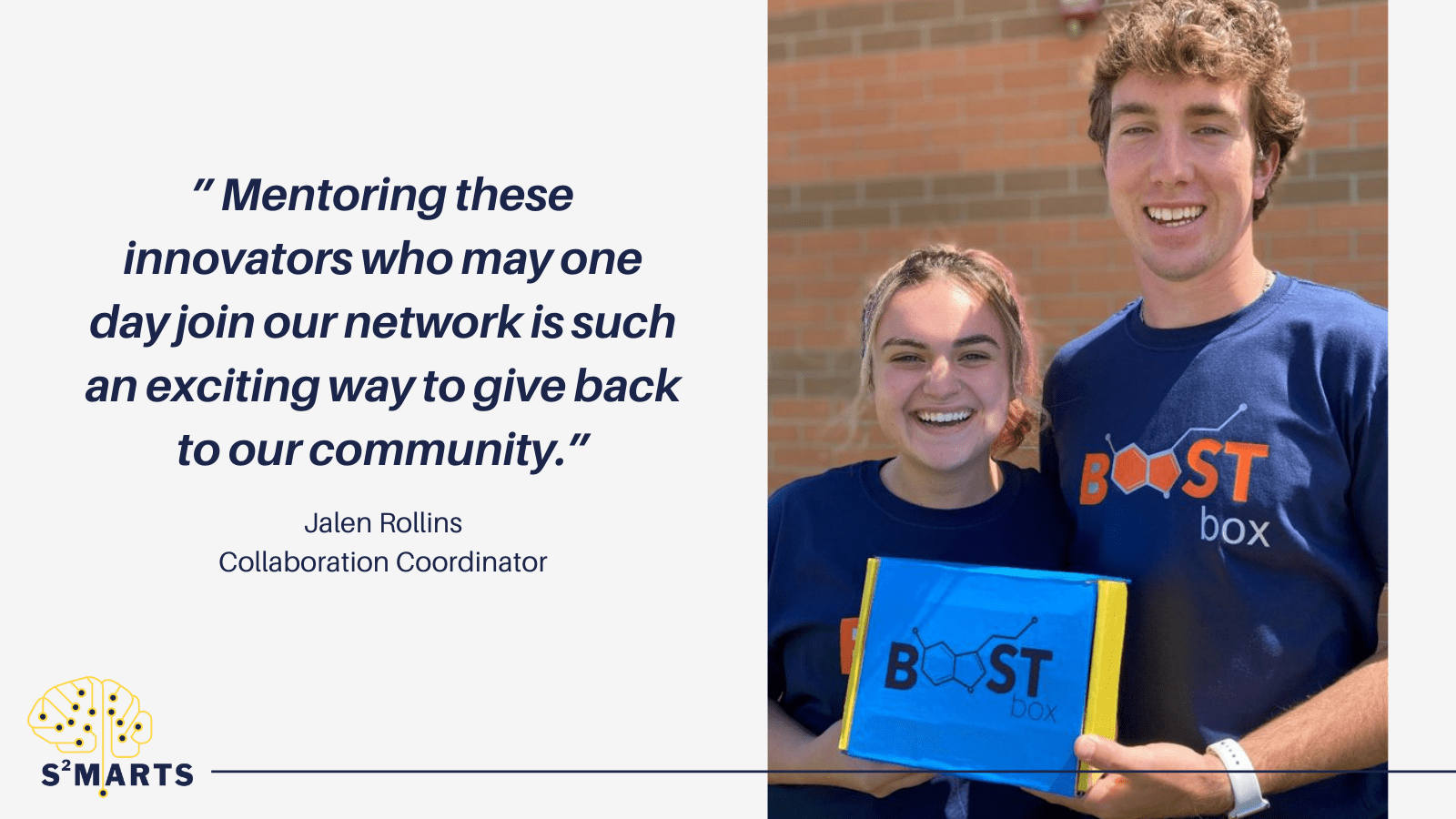 In preparation for Innovate WithIN's annual statewide competition, where students pitch an original product idea to a panel of experts, NSTXL mentors local high school students as they refine their presentation. This event gives students a chance to collaborate with industry experts and receive feedback in a boot camp-style competition series. Those who qualify will present their pitch at the state finals and compete to win $25,000.
Seniors at Edgewood High School in Ellettsville, IN, Andrew Blessinger, who is set to study Civil Engineering at the Colorado School of Mines, and Lauren Mitchell, who will be attending Indiana University as a direct admit to the Kelley School of Business, decided to join the competition with an idea that also has a direct social focus: tackling the stigma behind mental health.
"Being in various extracurricular activities such as football, basketball, track, and marching band means that we are exposed to all types of people with their own unique story," Blessinger said. "We found our middle ground within the need for support and positivity in our community."
Their idea, Boost Box, is targeted toward teens and young adults. Every month Boost Box sends curated products to their customers to help them sleep better, reduce anxiety, or simply boost their mood. To prepare for the competition, Blessinger and Mitchell spent months taking educational courses and building out their business model. When it came time to nail down their final presentation, they reached out to NSTXL for help.
"NSTXL gave us the opportunity to practice our pitch in a professional environment," Mitchell said. "Brooke and Jalen played an essential role in providing us with immediate feedback and help. They also suggested new ideas and provisions to our pitch giving us more drive and inspiration. We are so grateful for all the time and effort that they have dedicated to us."
As a platform dedicated to advancing technology, innovation, and competition, NSTXL is passionate about mentoring young STEM students as they begin their careers. By using their own networking skills, Blessinger and Mitchell were able to get a meeting with the local NSTXL team to hear their pitch.
"We were honored to be able to work with Lauren and Andrew, who are extremely bright high school seniors," said Brooke Pyne, S2MARTS Director at NSTXL. "Mentoring them throughout the entire process as they defined Boost Box was so rewarding. They are the future innovators of our ecosystem and watching them grow during this journey has been amazing."
"It has been so rewarding getting to help these students work toward a goal that is shedding light on mental health and creating a community of positivity," said Jalen Rollins, Collaboration Coordinator at NSTXL."Mentoring these innovators who may one day join our network is such an exciting way to give back to our community."
---
Learn more about S2MARTS and explore open opportunities at https://s2marts.org/. To be notified when new S2MARTS opportunities are posted, subscribe to NSTXL and we'll send them straight to your inbox, no membership required.