Microelectronics Commons Kicks Off at Annual Event
October 23, 2023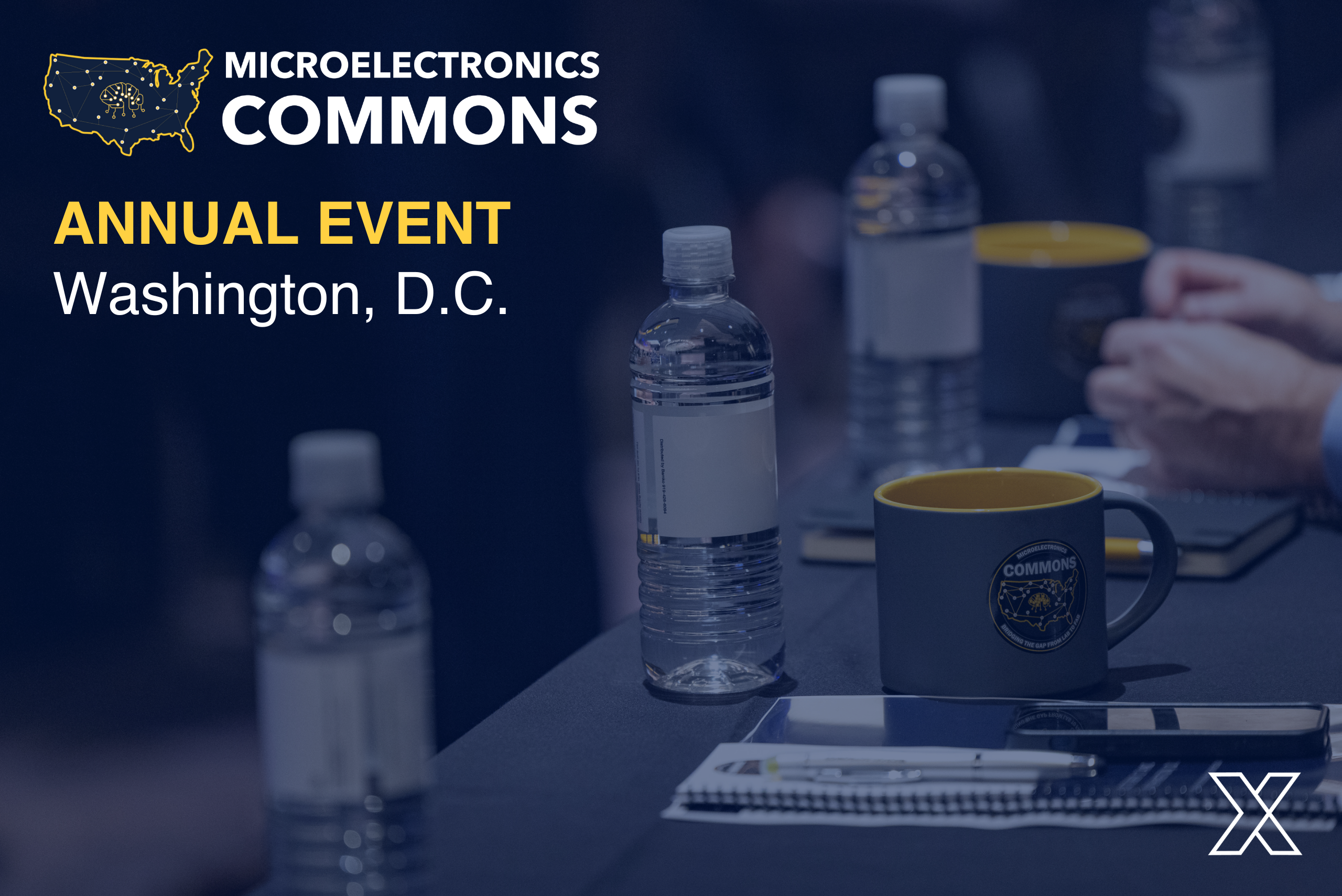 The Microelectronics Commons Annual Meeting took place in Washington, D.C. on October 17-18 and hosted over 700 in-person and 1.1k virtual attendees, including members of the Microelectronics Commons program, the newly awarded Hub leads and their teams, key government players, industry performers and more. This event featured briefings from Department of Defense (DoD) leadership, as well as program updates and abundant networking opportunities. Here is a summary of the event.
Day 1
The first day featured significant keynote speakers and introductions to the eight Hub awardees. Microelectronics Commons Director Stephanie Lin kicked off the event with an introduction that transitioned into a notable line-up of government speakers, including:
HON Kathleen Hicks, Deputy Secretary of Defense
Dr. Dev Shenoy, Principal Director for Microelectronics for the Office of the Under Secretary of Defense for Research and Engineering (OUSD(R&E))
Dr. Jason Rathje, Director for the Office of Strategic Capital for the Office of the Under Secretary of Defense for Research and Engineering (OUSD(R&E))
Senator Todd Young, Senator for Indiana
Dr. David A. Honey, Deputy Under Secretary of Defense for Research and Engineering (DUSD(R&E))
Dr. Angie Lewis, Division Technical Director for Naval Surface Warfare Center, Crane Division (NSWC Crane)
Dr. Alison Smith, Microelectronics Commons Technical Director for Naval Surface Warfare Center, Crane Division (NSWC Crane)
Bryan Smith, Program Manager at Naval Surface Warfare Center, Crane Division (NSWC Crane)
Following notable speeches, including Deputy Secretary of Defense Hicks' memorable call to action on fast-forwarding our microelectronics manufacturing capabilities in the United States, NSTXL CEO Tim Greeff hosted a fireside chat with Senator Todd Young (Indiana) and Senator Mark Kelly (Arizona). Both Senators Young and Kelly emphasized the importance of this work and the significant roles that both Indiana and Arizona are playing in bridging the infamous lab to fab "valley of death". Dr. Dev Shenoy (OUSD(R&E)), Dr. David A. Honey (DUSD(R&E)), Dr. Angie Lewis (NSWC Crane) and Dr. Alison Smith (NSWC Crane) were also featured.
The afternoon was filled with exciting introductions to the newly announced Hub leads, as well as summaries of their respective scope of work and area of expertise. During these presentations, we heard from the following Hubs:
The Northeast Microelectronics Coalition Hub led by the Massachusetts Technology Collaborative in Massachusetts
The Silicon Crossroads Microelectronics Commons Hub led by the Applied Research Institute in Indiana
 The California Defense Ready Electronics and Microdevices Superhub Hub led by the University of Southern California in California
The Commercial Leap Ahead for Wide Bandgap Semiconductors Hub led by the North Carolina State University in North Carolina
The Southwest Advanced Prototyping Hub led by the Arizona Board of Regents on behalf of Arizona State University in Arizona
The Midwest Microelectronics Consortium Hub in Ohio
The Northeast Regional Defense Technology Hub led by the Research Foundation for the State University of New York in New York
 The California-Pacific-Northwest AI Hardware Hub led by the Board of Trustees of the Leland Stanford Junior University in California
You can learn more about these Hubs here.
This exciting day was rounded out with an evening reception, where Hubs and industry players had the opportunity to network and connect on future teaming possibilities.
Interested in submitting solutions for future Microelectronics Commons projects? Membership at NSTXL allows you to compete for these opportunities. Learn more about how membership works here.
Day 2
The second day of the launch started out with keynote speakers, including Dr. Jason Rathje (OUSD(R&E)). The remainder of the day was technology-focused, featuring breakout rooms with informative presentations about the six technical areas that will be supporting Microelectronics Commons prototyping capabilities: Secure Edge/Internet-of-Things Computing, Quantum Technology, 5G/6G Technology, Electromagnetic Warfare, Artificial Intelligence Hardware, and Commercial Leap-Ahead Technologies. These sessions expanded upon the capabilities each Hub brings to the table with respect to the technology areas. Hubs can be involved in more than one tech area, and their areas of interest may change over time.
After presentations, all attendees enjoyed an expo session where each Hub featured a booth display. Interested parties were able to shake hands and learn more about their work. Projects under Microelectronics Commons will start to be released by the end of this calendar year, at which point project bidding begins.
At the close of Day 2, Microelectronics Commons Director Stephanie Lin made final remarks, commenting on the innovation that is to come in the future months/years. "Now, this is where the real work begins," Stephanie stated.
Click here to learn more about Microelectronics Commons. If you attended the virtual event, slides and recordings will be made available to you in the next few weeks.

About S²MARTS
The Strategic & Spectrum Missions Advanced Resilient Trusted Systems (S²MARTS), managed by NSTXL, is the premier rapid OT contracting vehicle for the Department of Defense (DoD) in trusted microelectronics, strategic & spectrum mission, and other critical mission areas. The Naval Surface Warfare Center (NSWC), Crane Division created S²MARTS to grow and engage an elite network of innovators, shorten the path to defense prototype development, and advance national security efforts.
About NSTXL
NSTXL is focused on building a network of innovators and creators across the most sought-after emerging technology fields. As an open-source platform, our approach was designed to encourage network growth and collaboration without stifling change. We support our network by providing commercial-term contracting, open-source technology discovery, modern-day marketing outreach, a strongly interconnected network for easy teaming and cybersecurity compliance support.