Meet our Strategic Events Manager, Erin Kupcak
April 22, 2021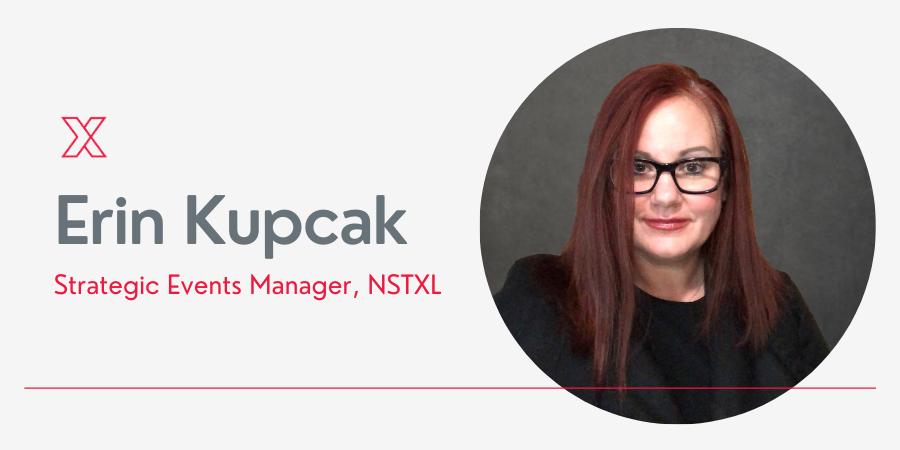 At NSTXL, our goal is to create a platform where innovators have direct access to the resources, connections, and training they need to build the next great solution.
A large part of that initiative is providing a steady stream of events for the NSTXL Alliance, which is why we're excited for you to get to know our strategic events manager, Erin Kupcak. Erin is working to bring new, design-thinking programs to the network and expand our innovation capabilities by creating a portfolio of engaging online and in-person events.
A major priority for Erin is centered around implementing experiential event strategies and tools to increase collaboration throughout the defense innovation ecosystem.
"Events play such a key role in fostering collaboration between the commercial and DoD community, which is why we are investing heavily in new tools and resources to advance NSTXL's event capabilities," said Shelley Tweedy, NSTXL's vice president of sales and marketing. "Erin's years of experience ensure that NSTXL's acquisition platform provides the substance, education, and innovative thinking needed to complete the DoD network of government agencies, commercial innovators, academic bodies, and more," said Tweedy.
Erin is also focused on cultivating NSTXL's collaboration efforts with ongoing thought leadership programs such as the S2MARTS Xcel and Xchange series, Teaming Collisions, Innovator NetworX events, and Design Sprints. These events allow NSTXL to further its vision of creating an open-source platform that pioneers an inclusive, symbiotic relationship between government entities and commercial organizations.
Erin has nearly 20 years of strategic event management experience in the technology, professional sports, and film industries. During her career, she has instituted both hybrid and virtual events for a large technology provider, helping the organization achieve key growth objectives. Erin also worked to introduce human-design thinking to multiple events, ensuring all stakeholders saw impactful results and a white-glove approach to thoughtful programs centered on the attendee experience.