Beyond 3D Prototype Project Awarded to CAE USA Mission Solutions Inc
October 8, 2021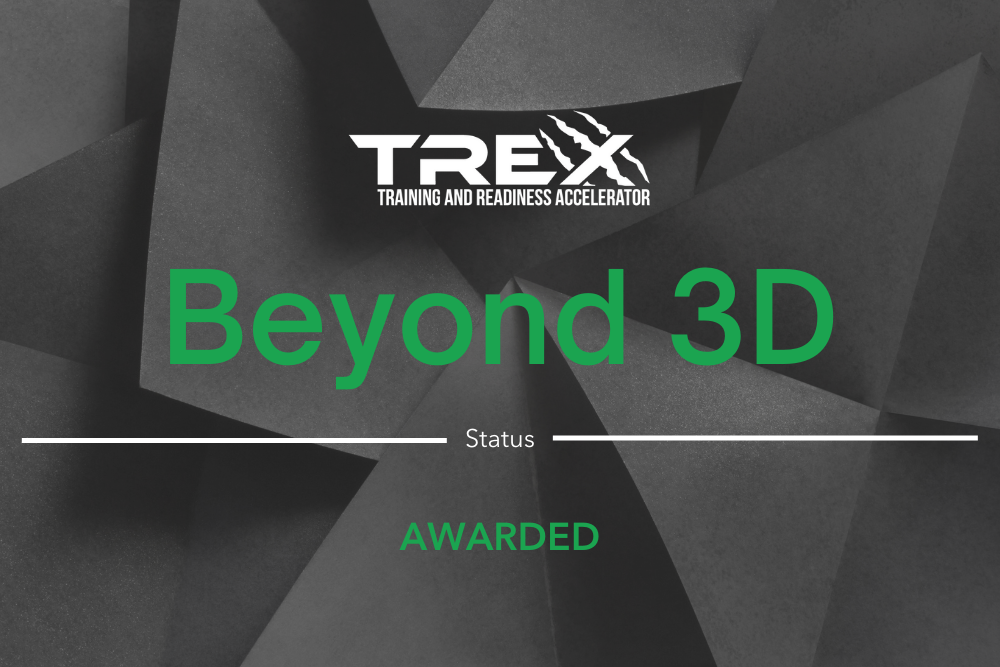 On August 10, 2021, the Beyond 3D prototype project Other Transaction Agreement (OTA) was awarded to CAE USA Mission Solutions Inc (CAE MSI) through the Training and Readiness Accelerator (TReX) OTA vehicle. Through this award, following a virtual Project TalX and Innovator NetworX event, one of our most robust teaming rosters to date came to fruition with CAE USA as the prime with 11 sub-vendors.
As the sponsoring government agency, the National Geospatial-Intelligence Agency's (NGA) vision is to further advance the current version of the United States Special Operations Command's (USSOCOM) Automation of Rapid Generation of 3D Geospatial Data (RAPID 3D) technology and develop it to meet their unique needs.
The project launched on March 2021 using NSTXL's TReX OTA. Within NGA's specifications, they outlined a request for technology that has a mix of expediency and accuracy when it comes to RAPID 3D. The Beyond 3D project will be deployed operationally for an extended "real world" test and evaluation period.
Teaming, collaboration, and partnerships are what made this solicitation successful, resulting in members joining together through NSTXL's Innovator NetworX event. This event is designed to encourage teaming and connect members on opportunities. As a result of the Beyond 3D Innovator NetWorX, every participating attendee joined a team who submitted on this opportunity. Partnerships like these provide Government program offices access to state-of-the-art technology solutions from traditional and non-traditional defense contractors, by eliminating barriers to entry through a multitude of teaming arrangements as well as broadening the industrial base available. Enabling collaboration between industries has proven to be vital and instrumental to the development of the finest, most superior technology, as illustrated in the Beyond 3D prototype project.
"NSTXL continues to find ways to bring innovators and government together," said Tara Kilcullen, TReX Director. "Through our series of Project TalX and Innovator NetworX, partnerships are formed that provide the government and the end-users with the most unique and beneficial solutions for modernization and readiness."
Upon successful completion of this prototype, NGA is looking to deploy the solution across multiple domains.
About TReX
The Training and Readiness Accelerator (TReX), managed by NSTXL, expedites the development, demonstration, and delivery of prototypes to increase Warfighter readiness. With a focus on modeling, simulation, and training, TReX provides the United States Government with an agile mechanism to iterate and refine critical technologies to face ongoing and emerging challenges.