Additive Manufacturing (AM) for Technology Protection (TP) Awardees selected using S2MARTS OTA
January 5, 2022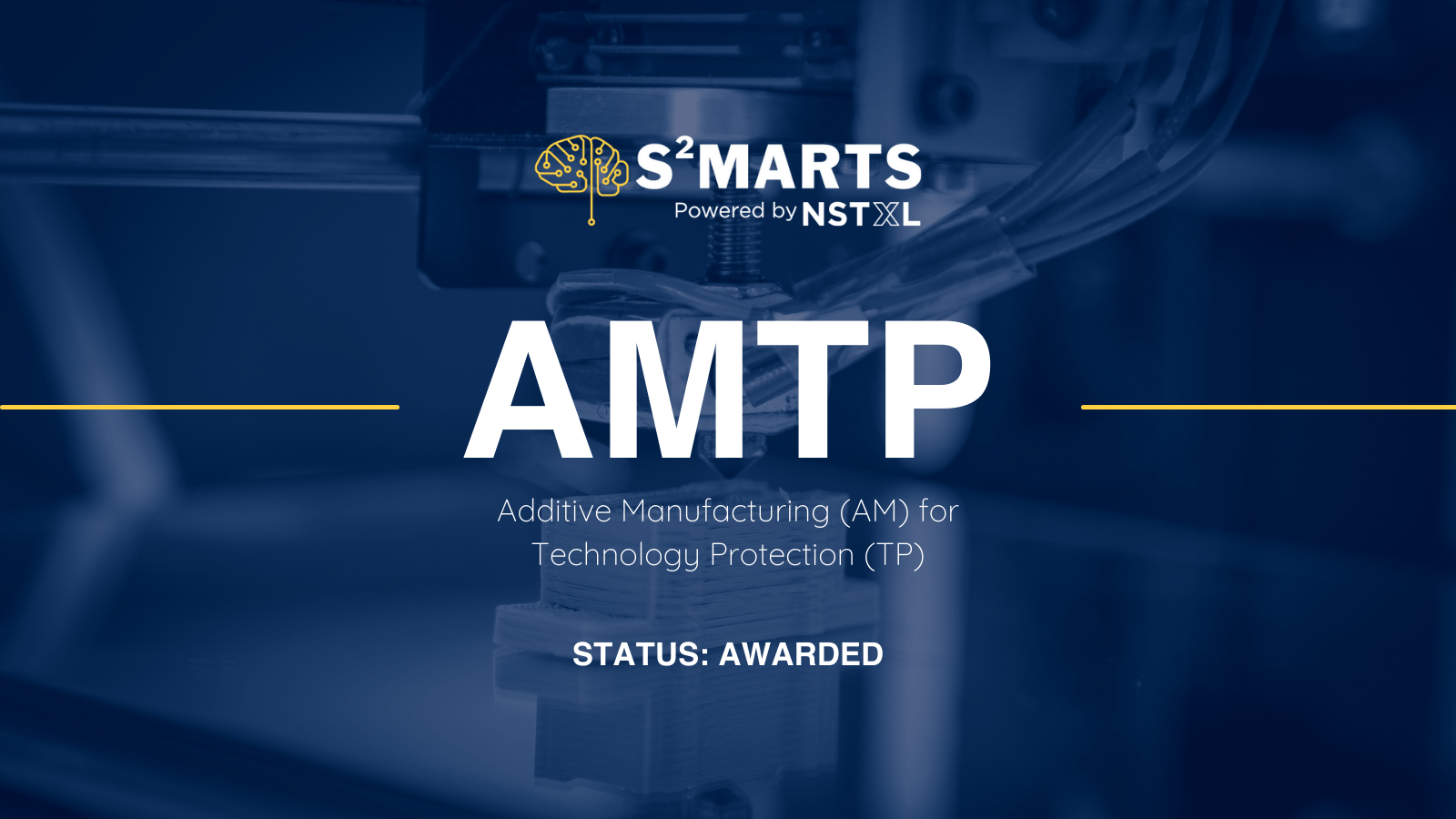 The Additive Manufacturing (AM) for Technology Protection (TP) prototype project selected six performers through the NSWC Crane Strategic & Spectrum Advanced Resilient Trusted Systems (S²MARTS) Other Transaction Authority (OTA). Powered by NSTXL, S2MARTS is the DoD's premier rapid OT contracting vehicle for flexible acquisition in trusted microelectronics, strategic & spectrum mission, and other critical mission areas.
Additive Manufacturing is a technology that can build 3D structures using methods that add material, as opposed to traditional subtractive methods which remove material from a blank starting form. AM methods include physically adding material layer-by-layer, as well as continuous methods. The potential for building near-arbitrary 3D structures has led to significant investment and growth of the AM industry; current technologies allow for printing plastic, metal, glass, and multi-material structures, while research hopes to enable directly printing complex structures, reactive/responsive structures, sensors, and biological tissues, among others.
Technology Protection is a broad term for the protective measures a system can utilize against unwanted intrusion or compromise. A simple example is hardware designed such that a visual inspection does not reveal its technology, while more advanced TP methods may identify hardware which has been modified.
NSWC Crane's Technical Director, Dr. Angela Lewis stated, "The OTA awardees will demonstrate prototype capabilities that address the AM technical domain problem set. The prototypes will demonstrate improvement over current TP techniques, processes, or systems as well as feasibility for eventual deployment on DoD systems and platforms."
The prototype project is sponsored by the Office of the Under Secretary of Defense for Research & Engineering (OUSD R&E) and Trusted & Assured Microelectronics (T&AM) programs; and is one of several ongoing initiatives organized by the Additive Manufacturing for Technology Protection (AMTP) Consortium. The AMTP Consortium enhances Department of Defense (DoD) TP capabilities by driving Government consensus on mission requirements, communication of those requirements to industry and academia, and facilitates focused technical collaboration to drive development of AM technologies.
"The AMTP Consortium was founded in 2019 in response to Defense needs for innovative approaches to Technology Protection. Today's launch of six exciting research efforts provides a dynamic start that highlights the community's momentum and interest," said Beverly McKeel, Director of the AMTP Consortium. "The consortium's first face-to-face meeting was canceled last fall, but nevertheless we have funding partners and six technical projects that will advance unique solutions in TP."
NSTXL members submitted multiple qualifying proposals which were reviewed by leading AM and TP experts from Naval Sea Systems Command, Air Force Research Lab, Navy, and Army. Six awardees where chosen who submitted innovative solutions.
"Cross-collaboration from the DoD enterprise on the AM/TP project provided a unique opportunity for commonality among the government AM ecosystem", said Brooke Pyne, Director of S²MARTS. "The fact that S²MARTS was able to foster an environment for enterprise partners to engage submitters, while still equally participating in the multiple projects, is a reflection of our agile processes that are driven by the needs and requirements of our government clients."
Awardees include General Electric, Johns Hopkins APL, Lockheed Martin RMS, Mercury Systems, ReLogic Research, and Charles Stark Draper Laboratories. We spoke to one of the six selected awardees, ReLogic Research, about their thoughts on the project and what they are looking forward to contributing.
"This is a significant opportunity for ReLogic Research and its team members to support the development of the next generation of Technology Protection (TP) techniques," said Chandler Wicks, CEO at ReLogic. "By focusing on the nexus of these capability areas, ReLogic seeks to develop disruptive innovations for TP in support of this effort. ReLogic looks forward to working with NSXTL to transition these TP techniques to the warfighter."
"Applying additive manufacturing (AM) techniques to technology protection (TP) will truly be a game changer. We're looking forward to leveraging the seed funds from this award to demonstrate the powerful, complementary nature of these two areas," said Dr. Korine Ohiri, Senior Scientist at Johns Hopkins University Applied Physics Laboratory. "The stochastic nature of AM means we can manufacture unique designs on demand, and allows for an incredibly broad breadth of security solutions for TP. Early-stage investments such as this are vital for pushing this exciting marriage forward."
Dr. Kyle Werner, Global Deterrence and Defense Department Director added, "AM research and application specific to TP threats is limited. This investment allows respondents to apply AM technology to TP threats with aim to demonstrate improvement over current TP techniques, with the end goal of delivering more secured Warfighter solutions."
When the projects conclude, a prototype that demonstrates AM techniques will be evaluated for AM application, TP benefit, feasibility of deployment, function, reliability, along with Size, Weight, Power and Cost. Rory Burke of Booz Allen Hamilton added, "Integration of AM into next generation TP will enable programs to realize operational, reliability, and cost benefits while maintaining the security of their systems. The AMTP Consortium and this OTA are enabling innovative partnerships and collaboration in new ways to achieve these objectives."
The project launched in July 2021 using the S²MARTS OTA powered by NSTXL. The AMTP consortium is operated by the Department of the Navy.
About S2MARTS
The Strategic & Spectrum Missions Advanced Resilient Trusted Systems (S²MARTS), managed by NSTXL, is the premier rapid OT contracting vehicle for the Department of Defense (DoD) in trusted microelectronics, strategic & spectrum mission, and other critical mission areas. The Naval Surface Warfare Center (NSWC), Crane Division created S²MARTS to grow and engage an elite network of innovators, shorten the path to defense prototype development, and advance national security efforts.