Meet the S²MARTS Team and OUSD(R&E) Leaders at GOMACTech!
March 16, 2023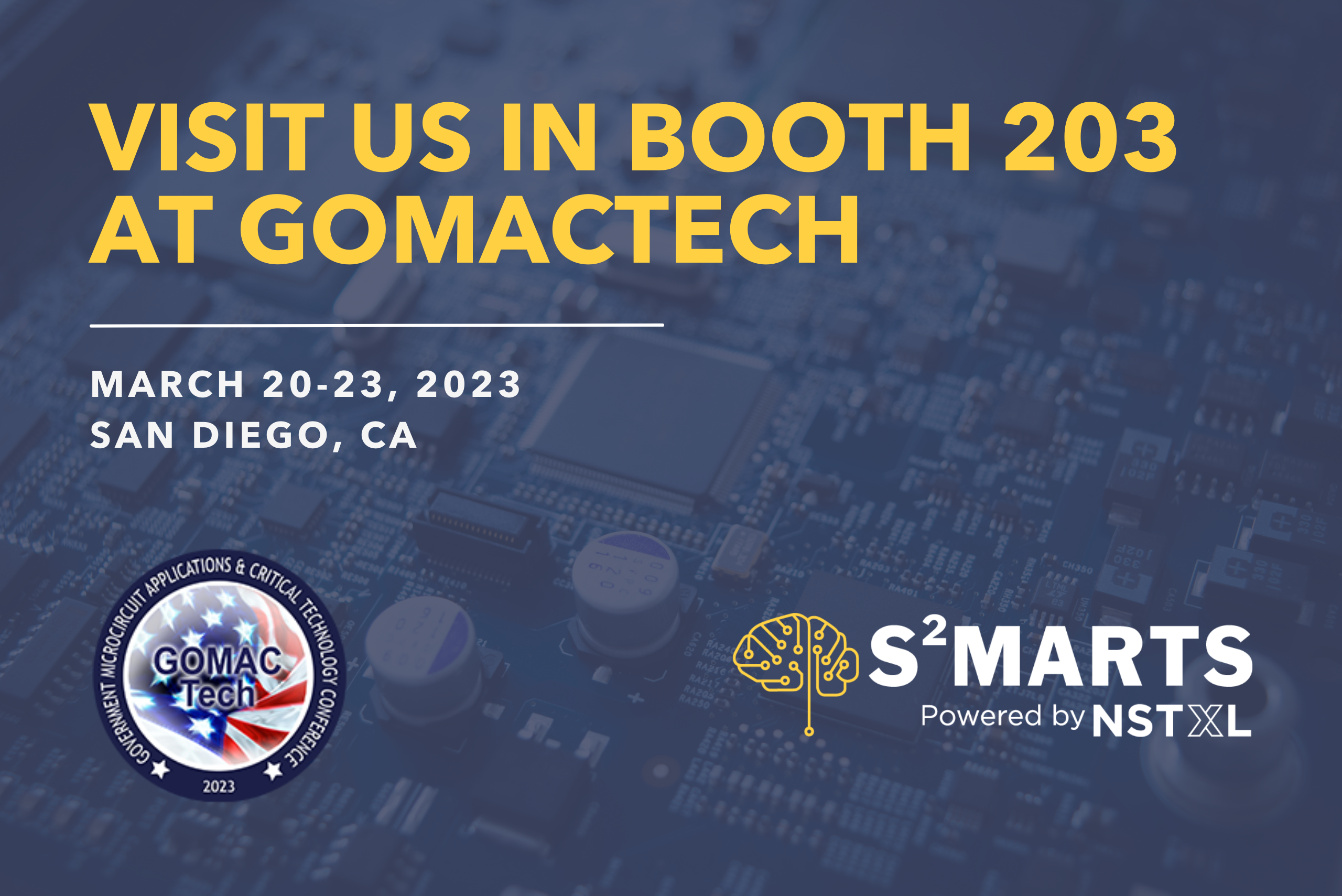 With the enactment and funding of the CHIPS and Science Act, microelectronics has been a significant focus among industry and government within the past few decades. Established in 1968, GOMACTech provides a platform for these discussions on national security and to review advancements in microchips for government systems. Over four days at GOMACTech, industry will be doing tech demos, creating partnerships with government agencies and other commercial leaders, and developing solutions for the warfighter. This year's program provides a forum for discussing and demonstrating advanced microelectronics and microsystems that can provide the means to build confidence in transformational, leap-ahead technologies and capabilities. GOMACTech is the premier forum for reporting on government-funded microcircuit research and other research efforts that focus on the technology needs of government systems.
Created by the Naval Surface Warfare Center (NSWC), Crane Division, The Strategic & Spectrum Missions Advanced Resilient Trusted Systems (S²MARTS), managed by National Security Technology Accelerator (NSTXL), is the premier rapid OT contracting vehicle for the DoD in trusted microelectronics, strategic & spectrum mission, and other critical mission areas. NSWC Crane created S²MARTS to grow and engage an elite network of innovators, shorten the path to defense prototype development, and advance national security efforts. Since its inception in 2019, S²MARTS has effectively been able to move forward with multiple microelectronics contracts to support the Department of the Navy and America's Warfighters. Now celebrating its fourth anniversary, S²MARTS has awarded over $1 Billion in government contracts. The management of S²MARTS by NSTXL and its close relationship with NSWC Crane has led to S²MARTS' undeniable success.
Throughout the conference, industry leaders will provide critical outlooks and how their technology can innovate the future of the warfighter. Meet Doug Crowe, S²MARTS OTA Director, Tony Kestranek, S²MARTS OTA Deputy Director, and the rest of the S²MARTS team to understand better how your organization fits into the upcoming projects done through the S²MARTS vehicle as well as discuss membership with NSTXL.
S²MARTS is hosting OUSD(R&E) leaders from The Naval Surface Warfare Center (NSWC), Crane Division. Visit us throughout the week for live discussions featuring…
Matt Kay, OUSD(R&E) DCTO(CT) T&AM Program Manager
Cody Wagner, RAMP Program Manager
Darren Crum, OUSD(R&E) Advanced Packaging Lead
And other key OUSD(R&E) leaders!
S²MARTS is also hosting Members in our booth to discuss their projects, white papers, and how you could collaborate and build your network. officers to discuss high-level overviews and help you better understand their projects. Stop by booth 203 and view the full schedule here.